Students can build valuable skills and relationships that compliment their academic journey, by participating in student organizations, campus programs, and leadership initiatives. The Student Engagement team is dedicated to connecting students to involvement opportunities that match their personal interests and passions as well as their academic and career goals.
With hundreds of involvement opportunities to choose from, getting involved can feel overwhelming. However, our dedicated team of professional staff members, graduate advisors, and student leaders are here to help you along the way.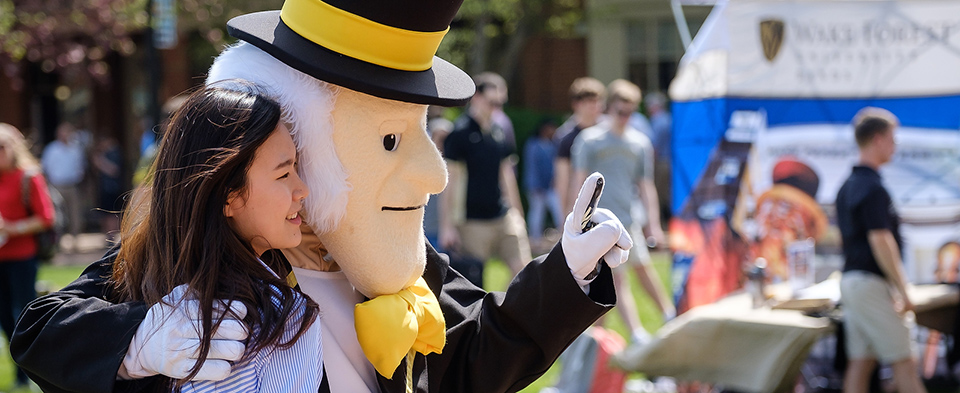 Contact the Office of Student Engagement:
engagement.wfu.edu
Benson University Center, Room 335
Monday – Friday 8:30 AM – 5:00 PM
PO Box 7658, Winston-Salem, NC 27109
Phone: 336-758-7168
Fax: 336-758-4744
Ways to Get Involved
Check out The Link
Browse student organizations, upcoming events, and other involvement opportunities on The Link, our online platform for getting involved!
Benefit from our involvement perks
There are many perks to getting involved! Enroll in the Link Loot program to accrue points every time a student swipes in at a Link Loot sponsored event or workshop. Each spring students can redeem their points for prizes at a live auction!
Attend an event
Stay up to date on upcoming events on the Link!
Complete the Interest Matcher
Fill out the Interest Matcher, a brief involvement inventory, to reflect on your involvement goals, interests, and identities. Our team will generate a comprehensive Interest Matching report based on your inventory results.
Meet with an Engagement Consultant
Learn the tips and tricks of getting involved from an experienced and trained student leader. Engagement Consultants will help you find your place!
Create a Personalized Involvement Plan
Map out your involvement journey and receive one-on-one coaching from an Engagement Consultant who is excited to support your goals. Complete the Interest Matcher to get started! Already completed the Interest Matcher? Follow up with an Engagement Consultant to learn more!
Visit the Office of Student Engagement
Stop into Benson 335 and meet our team and learn about more ways to get involved! We will always take the time to help students identify opportunities and available resources.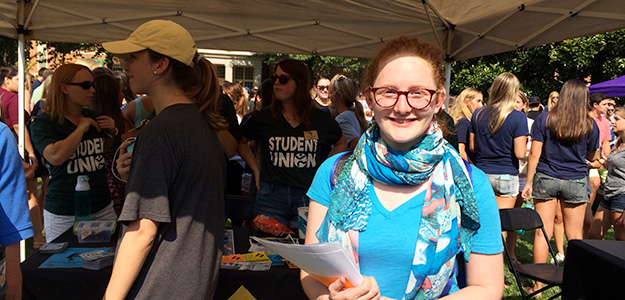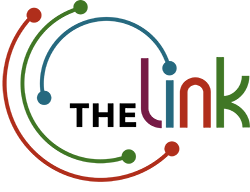 What is The Link?
If you've seen the logo around campus, you might be wondering what's up. The Link is a tool for campus connection. There are lots of ways to get involved on The Link, including joining student organizations, attending events, and engaging in campus traditions! To find out more, check in with one of our Engagement Consultants and be sure to ask what kind of involvement perks you can earn!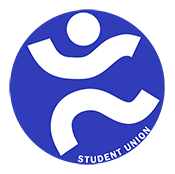 Student Union
Student Union is the campus-wide programming board at Wake Forest University. Led by a student executive board and programming directors, the group offers more than 200 programs throughout the year including Homecoming, concerts, coffeehouses, special events, campus traditions, films and lectures.
All WFU students are invited to attend an event or join a committee. There's no better way to get involved on campus!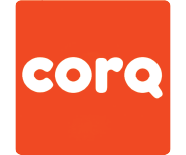 Get the Corq App
Stay connected to what's happening. Download the Corq app for campus event information and touchless check-in (for events with a required RSVP). Available at the Apple Store and Google Play.
Once you download the app and select Wake Forest as your campus, sign in with your WFU gmail account to view and register for student-only events.

Theta Chi Appeal Update

The Student Life Committee (SLC) held an appeal hearing on Thursday, May 25, 2023, regarding the outcome of the Formal Resolution process in which the Gamma Omicron chapter of Theta Chi Fraternity was found responsible for violations of the Student Code of Conduct and was suspended for four years. As background, the SLC hears appeals […]

Update on Theta Chi

Based on a series of Code of Conduct violations, Wake Forest University has collaborated with Theta Chi Fraternity International Headquarters and has suspended the charter of the Gamma Omicron chapter for a period of four years. The fraternity must demonstrate a continuous period of four years of non-operation to be eligible to request a return […]

2023-24 Student Trustee Process

The Wake Forest University Student Life Committee is seeking applicants and nominations for the Student Trustee position on the 2023-24 Board of Trustees. The Student Trustee position is open to all rising, full-time junior and senior students (i.e., current sophomores and juniors) at Wake Forest University who are not on academic or social probation. The […]