Main Content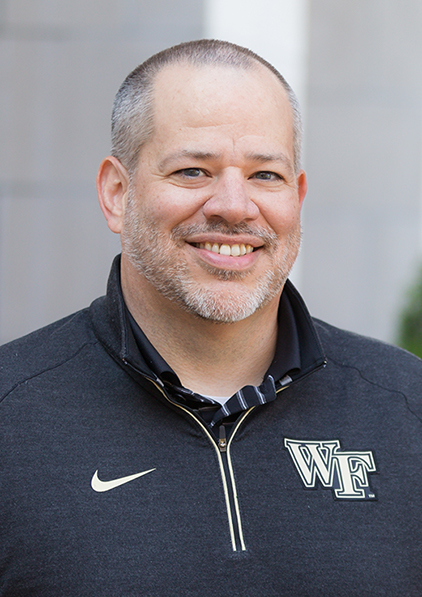 Tim Wilkinson
Associate Dean for Student Engagement
wilkints@nullwfu.edu
Tim oversees all aspects of the Student Engagement office, such as strategic planning, assessment and supervision of staff. He advises WFU Student Government, and serves as chair of the Student Activity Fee Committee and secretary of the Student Life Committee.
Hometown: Toms River, NJ
Education: West Chester University (BA) – Speech Communications; Rider University (MA) – Human Services; Appalachian State University (EdD) – Higher Education/Adult Learning (Current)
Hobbies: Watching the Phillies and Super Bowl Champion Eagles, playing with his son Liam, pretending he is still a runner
Favorite Wake Tradition: Sitting on the hill at Wake Forest football games
"Decisions are made by those who show up." – Jed Bartlet, The West Wing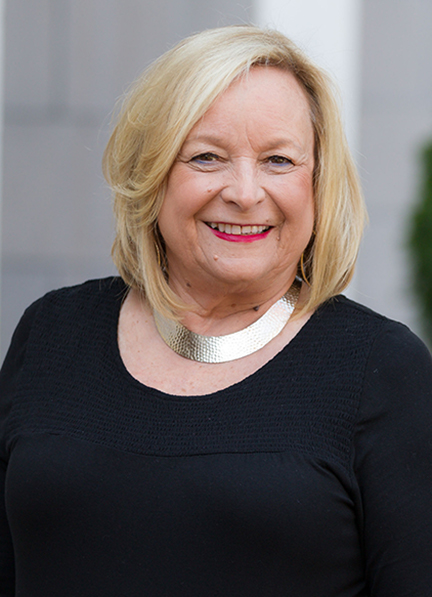 Kathy Arnett
Director of Student Organizations and Programs
arnettkc@nullwfu.edu
Kathy works with students hoping to charter new student organizations, serves as a voting member of the Student Organizations Council and Student Activity Fee committees, and oversees major campus traditions including the President's Ball, Family Weekend, Senior Send-Off, and Orientation late night events.
Hometown: Bluefield, WV
Education: Elon University (BA) – Health and Exercise Science; Averett University – MBA
Hobbies: Cooking, tennis, reading, watching movies
Favorite Wake Traditions: aWake All Night, Shag on the Mag, President's Ball, Family Weekend
"Just do it." – Nike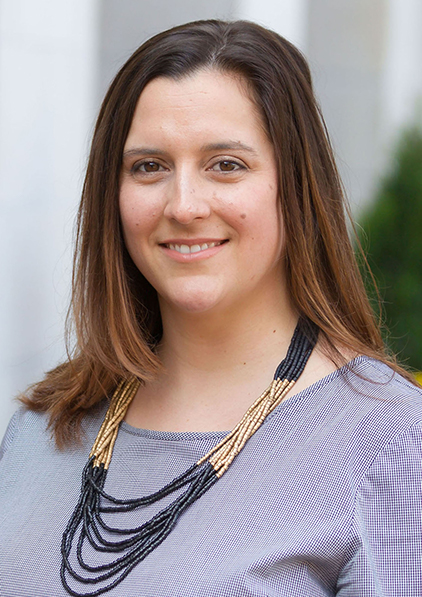 Betsy Adams
Director of Fraternity and Sorority Life
adamseh@nullwfu.edu
Betsy provides leadership and strategic planning for fraternities and sororities, with a focus on harm reduction initiatives, leadership development, advising the Interfraternity Council and FSL Ambassadors, and liaising with the Greek Alumni Advisory Board.
Hometown: Doylestown, PA
Education: American University (BA) – Print Journalism; William & Mary (M. Ed.) – Educational Policy, Planning and Leadership
Hobbies: Cooking, reading, cheering on the Philadelphia Eagles, hanging out with her adorable rescue hound Arnie
Favorite Wake Tradition: Senior Send-off
"One can never consent to creep when one feels an impulse to soar." – Helen Keller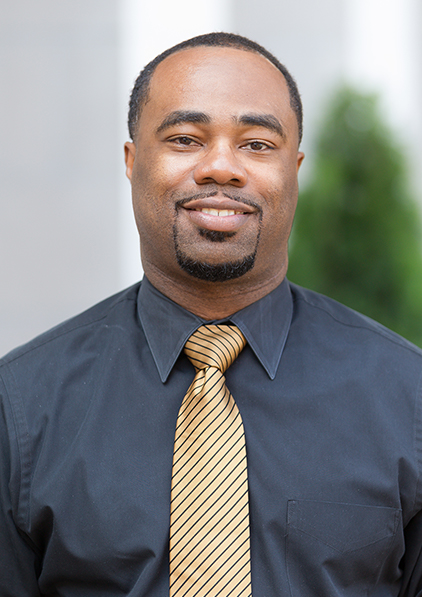 Dexter Sharp
Associate Director of Leadership Initiatives
sharpbd@nullwfu.edu
Dexter coordinates and works with campus partners to assess and establish individual and organizational leadership development programs. Also, he oversees leadership initiatives such as CHARGE, Carpe Deacon, First Year in Focus and the Women's Leadership Symposium.
Hometown: Fayetteville, NC
Education: Fayetteville State University (BS) – Computer Science; Fayetteville State University (M. Ed.) – Mathematics; North Carolina A&T State University (PhD) – Leadership Studies and Adult Education (Current)
Hobbies: Movies, weekend trips, eating
Favorite Wake Tradition: Football games
"The ultimate measure of a man is not where he stands in comfort and convenience, but where he stands at times of challenge and controversy." – Martin Luther King Jr.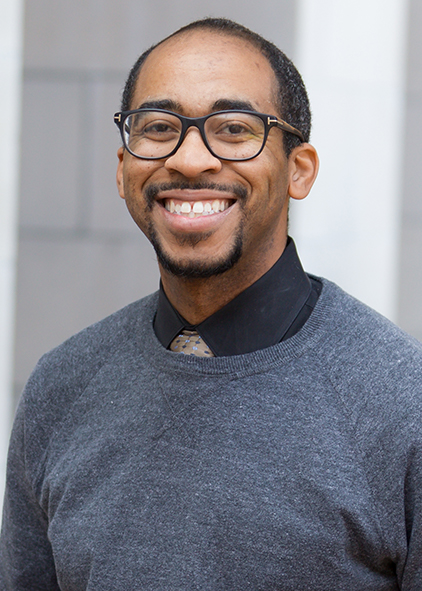 Shane Taylor
Assistant Director of Fraternity and Sorority Life
taylorsu@nullwfu.edu
Shane supports the fraternity and sorority community at Wake Forest through different diversity and inclusion efforts for 25 Greek letter organizations, while strengthening current harm reduction training for student organizations through the TIPS Training Program. In addition, he oversees marketing/educational efforts for the community and advises National Pan-Hellenic, Panhellenic, and Order of Omega councils.
Hometown: Raleigh, NC
Education: University of North Carolina, Charlotte (BS) – Business Administration: Finance; North Carolina State University (M. Ed.) – Higher Education and Administration
Hobbies: Traveling, concert going, college basketball
Favorite Wake Tradition: Free Chick-fil-A sandwich at basketball games if opposing player misses two free-throws.
"Heroes are made by the paths they choose, not the powers they are graced with." – Tony Stark, Iron Man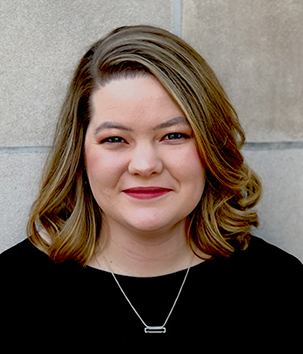 Erinn Forbes
Assistant Director of Student Organizations & Programs
forbese@nullwfu.edu
Erinn supports student organizations in post-chartering and beyond by managing The Link, planning involvement fairs, coordinating event planning meetings, and hosting workshops for organization leaders and members. She advises the Engagement Consultants in helping their peers find new and exciting ways to get involved on the WFU campus.
Hometown: Roanoke, VA
Education: University of Alabama (BS) – Human Development & Family Studies; University of Virginia (M.Ed.) – Higher Education Administration
Hobbies: Watching musicals, Netflix, Marvel movies, and Alabama football; DIY/crafting; baking; hanging out with her cats (in a totally non-crazy way)
Favorite Wake Tradition: Wake Forest: Senior Send-off, Winston-Salem: Spirits of Summer Festival
"Around here we don't look backwards for very long, we keep moving forward, opening up new doors, and doing new things, because we're curious…and curiosity keeps leading us down new paths." – Walt Disney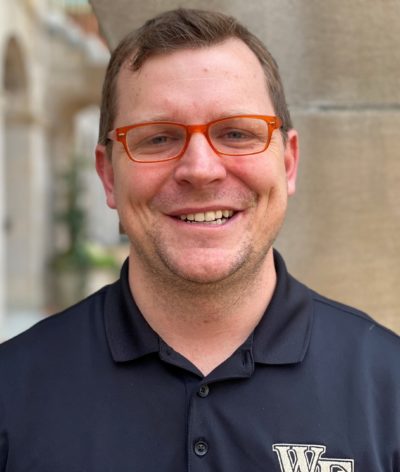 Trey Kalny
Interim Assistant Director of Student Union
kalnjm16@nullwu.edu
Trey advises Student Union, the campus programming board, and assists the organization in planning 100+ events for the campus community each year. Their activities range from weekly events like Friday Films and Tuesday Trivia, to week-long celebrations like Homecoming and Springfest, to large concerts, and everything in between!
Hometown: Richardson, TX
Education: Wake Forest University (BA) – English & History; Wake Forest University (MFA) – Documentary Film
Hobbies: Reading the too many books that he owns; lamenting the misfortunes of his favorite sports teams (notably the Minnesota Vikings); witnessing his dogs Daisy, Gatsby, and Scout blatantly disobey him
Favorite Wake Traditions: Wake Forest: Lighting of the Quad, Winston-Salem: Bowman Gray Racing
"The last time doesn't exist. It's only this time. And everything is going to be different this time. There's only now." – Bill Murray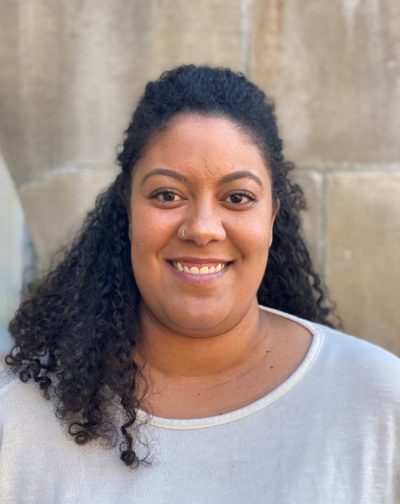 Lacey Hatcher
Operations Manager
hatchels@nullwfu.edu
Lacey supports the Office of Student Engagement in a multitude of ways: From managing daily operations, developing and implementing strategies/processes to help the office function efficiently to financial and budgetary reconciliation and approval/review of correspondence with Campus Life and other university partners.
Hometown: Nazareth, PA
Education: Wake Forest University (BA) – Communications & Sociology
Hobbies: Watching college sports or any version of the Real Housewives franchise, anything Disney related (especially fantasizing about the food in Epcot), lounging around with her dog Bentley (aka watching him sleep) and singing the Philadelphia Eagles fight song
Favorite Wake Tradition: When the Deacon comes out on the motorcycle at football and basketball games
"I've learned that you shouldn't go through life with a catcher's mitt on both hands. You need to be able to throw something back." – Maya Angelou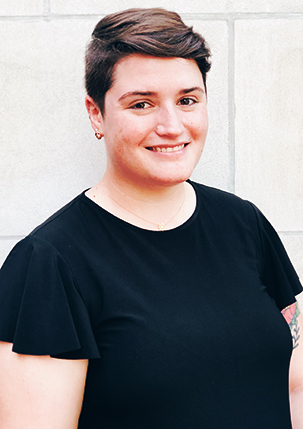 Jorie Doster
Graduate Advisor for Fraternity and Sorority Life
Hometown: Brunswick, GA
Education: Sewanee: The University of the South (BA) – English; Wake Forest University (MDiv/MA) – Divinity and Counseling (Current)
Hobbies: Knitting, baking, reading, beekeeping
Favorite Wake Tradition: I am most looking forward to experiencing Lovefeast and the Lighting of the Quad.
"what about this theory. the fear of not being enough. and the fear of being 'too much.' are exactly the same fear. the fear of being you." – Nayyirah Waheed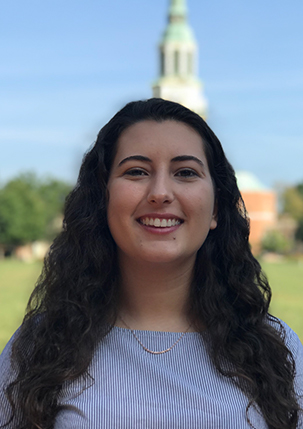 Alexandra Green
Graduate Advisor of Event Resource Managers
Hometown: Warner Robins, GA
Education: Florida State University (BS) – Psychology; Wake Forest University (MA) – Counseling (Current)
Hobbies: Watching movies and Parks and Rec, hiking, going to concerts, and watching football (Go Browns!)
Favorite Wake Tradition: I am excited to discover and experience all of Wake's traditions during my first year here!
"You miss 100% of the shots you don't take." –Wayne Gretsky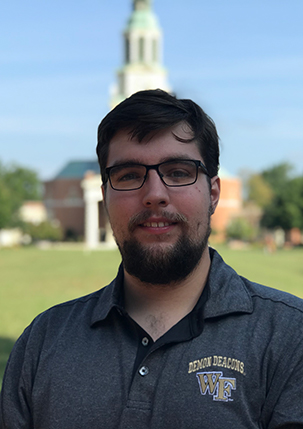 Daniel Wolodkin
Graduate Advisor for Student Union
Hometown: Frostburg, MD
Education: West Virginia University (B.S.) Mathematics and Biology; Wake Forest University (Current M.A. Student) Statistics
Hobbies: Hiking, cooking, playing video games, and watching Netflix
Favorite Wake Tradition:
"You don't know what you don't know."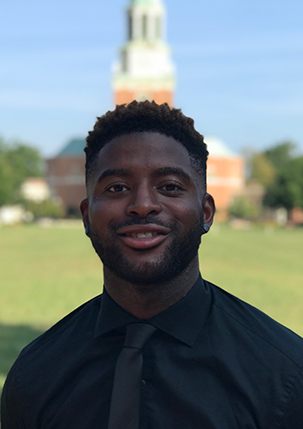 Jordyn Bennett
Graduate Advisor for Student Organizations and Programs
Hometown: Chester, PA
Education: Slippery Rock University (B.S.) Journalism, (B.A.) Philosophy – Career Related Track in Journalism; (current) Wake Forest University (M.A.) Sports Media and Storytelling
Hobbies: Writing, playing sports, working out, singing and dancing
Favorite Wake Traditions: I am new to Wake Forest, but sports are my life, and I can't wait to see what's in store.
"Difficult takes a day; impossible takes a week." – Clifford "T.I." Harris Jr.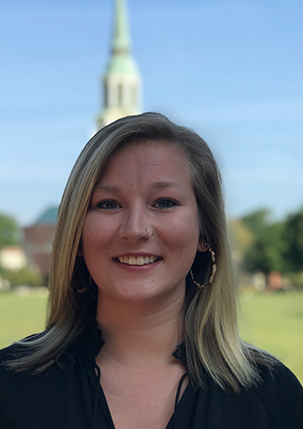 Madison White
Graduate Advisor for Leadership Initiatives
Hometown: Winston-Salem, North Carolina
Education: UNC Charlotte – BA in History and Religious Studies, Political Science minor; Wake Forest University (current) MDiv
Hobbies: Reading, hiking, any water activity but especially kayaking, taking her dog to the dog park, exploring coffee shops
Favorite Wake Tradition: This will be my first year as a Wake Forest student so I am excited to learn about the traditions! But being Moravian I think the Lovefeast will definitely be at the top of my list.
"Though my soul may set in darkness, it will rise in perfect light; I have loved the stars too fondly to be fearful of the night." -Sarah Williams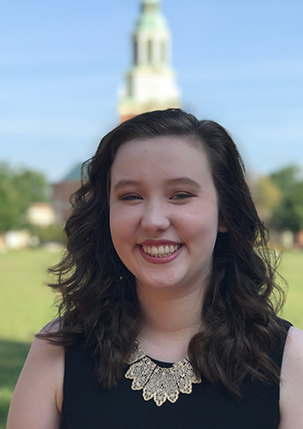 Sidney Beeman
Graduate Advisor for Student Organizations and Programs (Wake Downtown)
Hometown: Frostburg, MD
Education: Frostburg State University (BS) – Mass Communication; Wake Forest University (MFA) – Documentary Storytelling (Current)
Hobbies: Making films, Collecting Stickers, Geocaching, Photography, and Star Wars Enthusiast
Favorite Wake Tradition: I am new to Wake Forest and Winston Salem, and I can't wait to discover traditions for the first time!
"Vita Brevis Ars Longa." —Hippocrates