The Department of Student Engagement exists to provide opportunities for out-of-classroom learning and to facilitate the educational process by providing opportunities for students, faculty, and staff to interact in a variety of informal settings.
Staff members strive to promote student growth and development through student involvement in diverse co-curricular cultural, social, educational and recreational activities.
The Office of Student Engagement's approach to leadership is guided by the Social Change Model of Leadership created by the Higher Education Research Institute of UCLA.
The Office of Student Engagement believes
Leadership is socially responsible; it impacts change on behalf of others
Leadership is collaborative
Leadership is a process, not a position
Leadership is inclusive and accessible to all people
Leadership is values-based
Community involvement is a powerful vehicle for leadership
The Leadership Model consists of 3 levels of interaction and 7 dimensions.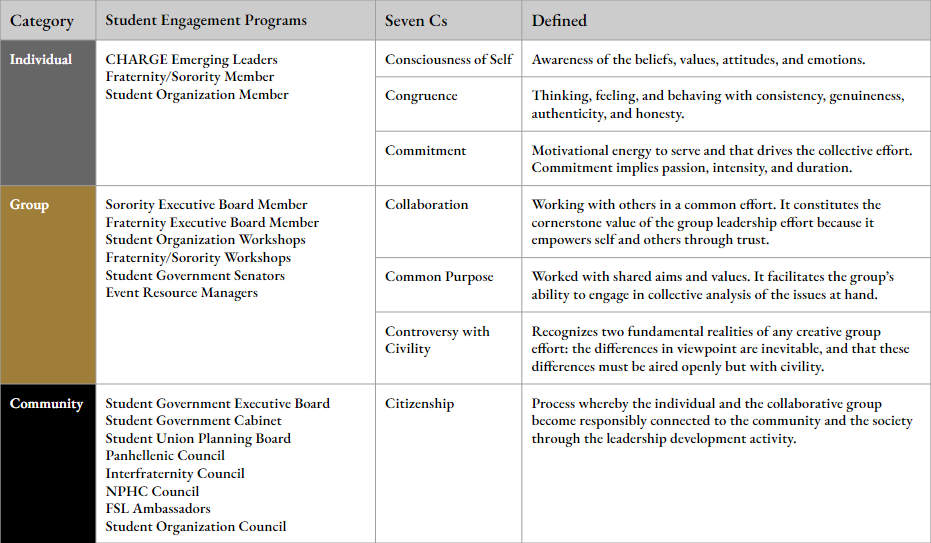 For information about leadership programs and initiatives contact Lauren Haynes, Assistant Director of Leadership Initiatives, haynesl@nullwfu.edu