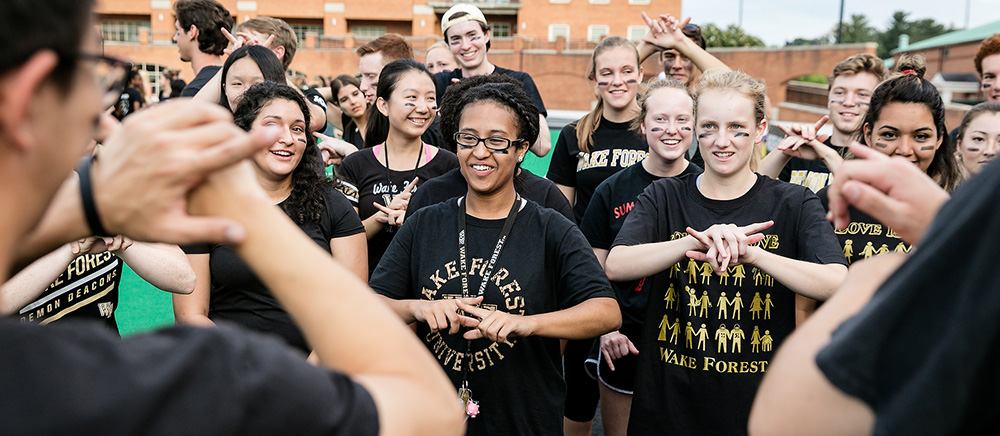 Finding a Sense of Belonging
"Helping every Deacon find their place" is the vision of the Office of Student Engagement. For the students and staff working to fulfill this vision, that means making sure every student on campus finds their sense of belonging in a student organization, fraternity or sorority, leadership initiative or helping create and maintain positive traditions at Wake Forest.
"Sense of belonging" is the term used to describe the feeling a Wake Forest student has when they find their affinity group at Wake. "Learning outside the classroom" is where the student builds relationships with peers, where he/she learns to live on his/her own without the direct supervision of the family, and where he/she develops leadership skills. Over 86% of Demon Deacons are involved in a club or organization, and over 70% hold leadership positions.
"How can my student get involved?"
Involvement at Wake Forest is an important component of the student experience. Recent studies have shown that:
9 out of 10 incoming WFU students are interested in getting involved with clubs and organizations and/or volunteer or community service work
7 out of 10 incoming WFU students are interested in club, intramural or rec sports
7 out of 10 WFU students are interested in joining a social fraternity or sorority
"Over 86% of Demon Deacons are involved in a club or organization, and over 70% hold leadership positions."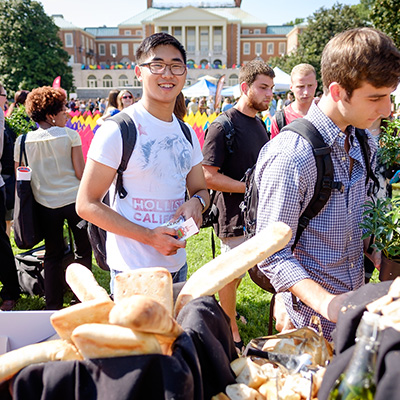 Studies have shown that the more students are involved, the more satisfied they are with their college experience, which in turn positively affects student retention. Involvement in some activity or student group on campus is highly encouraged. From attending a student activity to joining a club or organization to actively participating in Student Government, getting involved is very easy. There is such a variety of ways to participate in student life that your student is guaranteed to find something that piques his/her interest.
"What advice can I give my student?"
1. Figure out what they are passionate about: Involvement is an excellent way for students to begin their journey be extending opportunities to build on passions and experiences that are in their comfort zone. There are often organizations that speak directly to these passions.
2. Understand the resources available at Wake Forest: Wake Forest resources such as the Interest Matcher, Engagement Consultant Program, The Link, Fall and Spring Involvement Fairs and Fraternity and Sorority recruitment are easily accessible ways for your student to take a deeper dive into some of the opportunities out there.
3. Keep your eyes and ears open: There are many opportunities at Wake Forest that the Office of Student Engagement never even hears about. Your student needs to be looking for fliers, posters and other marketing materials that student organizations put out to promote events and programs. Talking with classmates, floor mates, Resident Advisors and Student Advisors will yield all sorts of possibilities.
4. Start with your major: Most academic departments have student organizations and honorary societies that are directly attached to them. Many faculty members also serve as faculty advisors and mentors to these organizations.
5. Interact and network: Asking questions, paying attention and taking students, staff and faculty up on opportunities presented to your student are the keys for them "getting their foot in the door" when looking to get involved on campus.
6. Create what isn't available: Wake Forest charters 10 to 20 new student organizations each year. All of these organizations are created by students who are not finding their current connection on campus.
7. Attend campus events: The best way to see student organizations in action is to attend the events that they are sponsoring. Not only will you meet key organization leaders, but you will get the truest sense of how members of the group work together.
8. Visit the Office of Student Engagement: The students and professionals in the OSE work every day to help make "Sense of Belonging" a reality for all Wake Forest students. Members of the office will always take the time to help students identify and utilize the resources available.