Main Content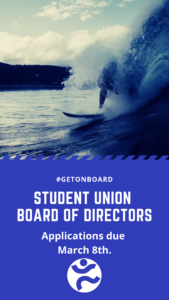 The applications for the 2019-2020 Student Union Board are now open!
Student Union is seeking applications from current freshmen, sophomores, and juniors.  Prior involvement with Student Union is not required.
Serving on the Student Union Board of Directors is a great way to gain and develop marketable skills for all professional aspirations, and provides the opportunity to get more involved in various elements of campus life. Applications due March 8th at 5pm! #GetOnBoard
The mission of Student Union is to develop an enhanced cultural, educational, recreational, and social atmosphere for the WFU community through student-programmed events and support for student life.  The Wake Forest Student Union started in 1958 as the WFU College Union and in 1988 changed its name to the Student Union Network but in 1988, the Network was dropped from the name.

Visit su.wfu.edu for more information and the application.
Recent Posts
January 11, 2021

October 5, 2020

August 10, 2020