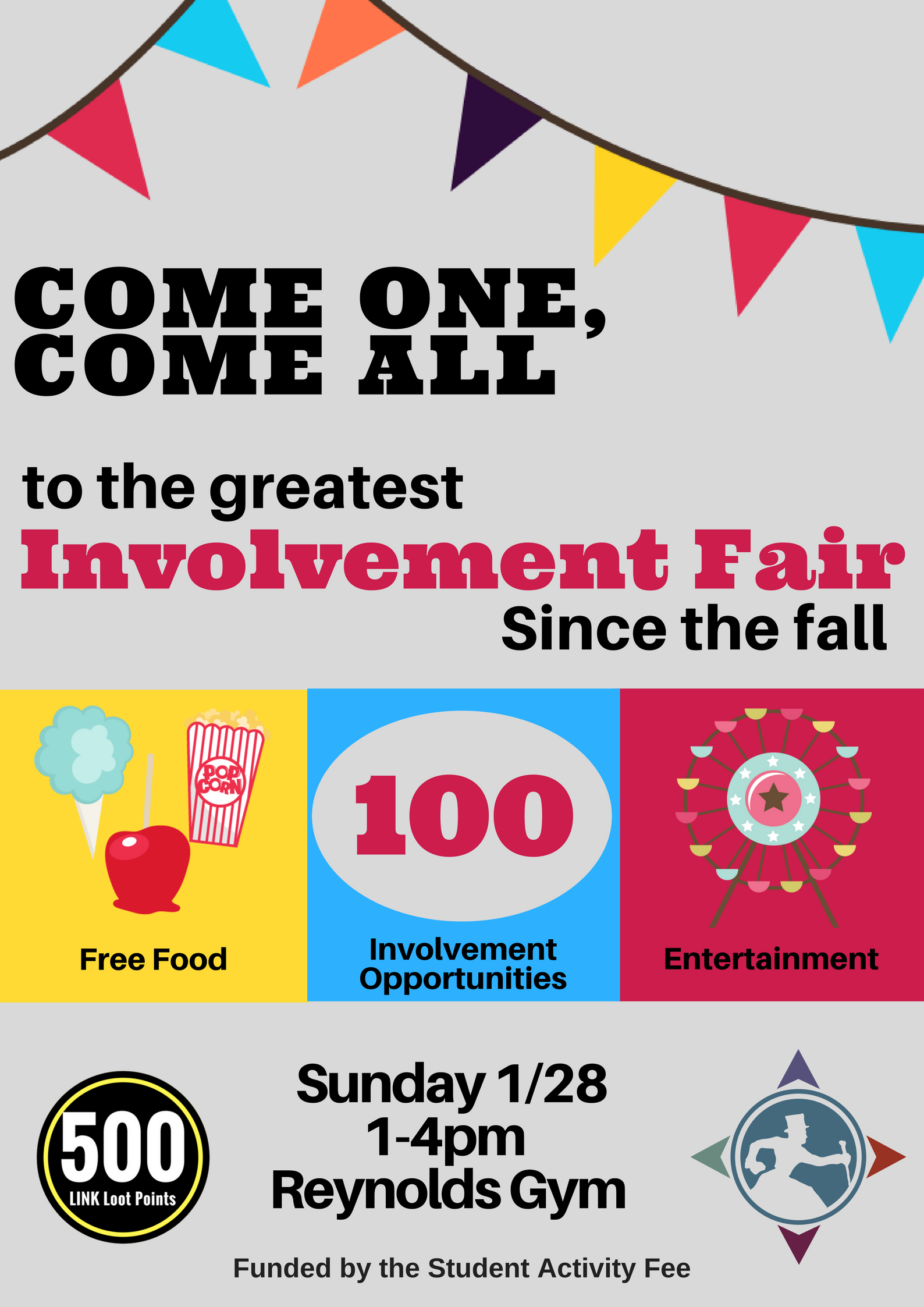 The Spring Involvement Fair will be held on Sunday, January 28th, 2018 from 1-4pm in Reynolds Gymnasium!
We invite your organization to participate in the Spring Involvement Fair to recruit new members, promote upcoming events, and educate the WFU community on your organization values & initiatives. Your participation in the fair is critical to connecting students to meaningful involvement opportunities on campus and we appreciate your dedication to helping every Deacon find their place!
For Chartered Student Orgs & Groups in the Chartering Process:
To participate in the fair, you must do the following:
Resources Available to Student Groups Prior to the Fair
Marketing & Recruitment: Involvement Fair Essentials Workshop, Thursday 1/25 at 5pm in the Hub-Benson 218:
To prepare for the Spring Involvement Fair, attend this engaging workshop to learn the best practices for marketing your organization and recruiting new members. All students in attendance will win additional resources for an organization of their choosing!
Fair Flair Station, Thursday 1/25 and Friday 1/26 from 9am-5pm in the Hub-Benson 218:
To prepare for the Spring Involvement Fair, registered student organizations may utilize the "Fair Flair Station to prepare their materials and decorations for the Involvement Fair. Some resources will be available for student organizations who may need financial assistance.
Promoting the Spring Involvement Fair to Students
We'd greatly appreciate your help pushing out communication to students in your network! Please share the Spring Involvement Fair marketing materials below via social media and your listservs. Students who use the hashtag #WFUstudentengagement throughout the week will be entered into a raffle for various prizes and organization incentives.
To download, you may need to right-click the graphic and choose "save image as":
Download Event Graphic (PNG)
Download All-Access Pass Graphic (PNG)
If you have questions regarding the Spring Involvement Fair please contact Michele Kurtz at kurtzms@nullwfu.edu.